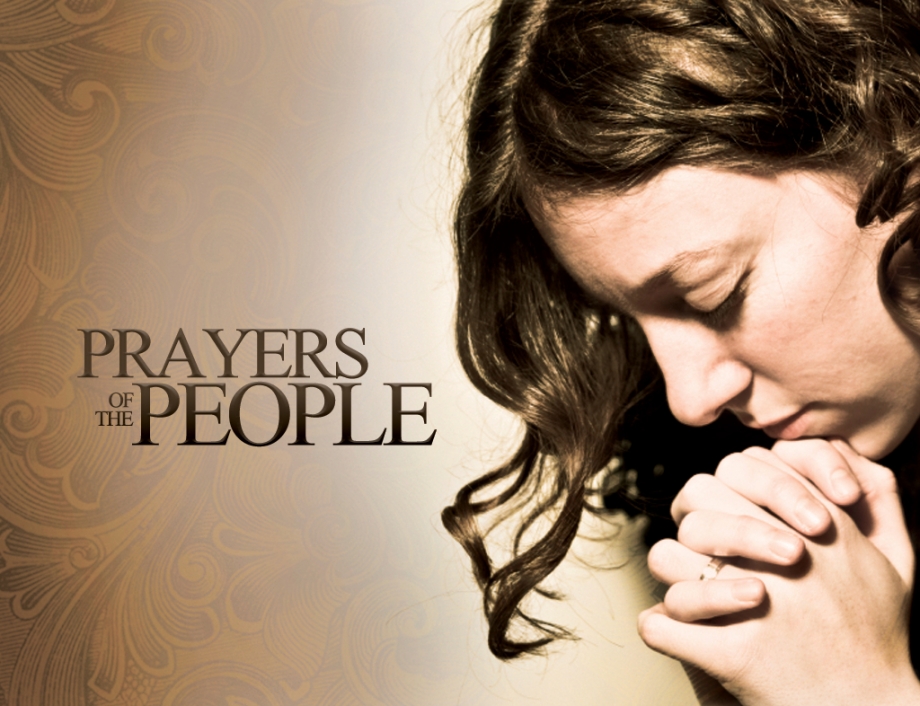 Prayer Request Form
Prayer Request for my church


I am a pastor of a local church. Recently joined it and discovered that there are tons of youth and young adults in the area, who do not come to the church. Please agree with me that the Spirit of God may work in the lives of the people around my church and people may receive blessing, salvation and meaning to their lives through my Bible based teaching. Also, pray that the worship services may fill with God's mighty glory and fresh anointing of the Holy Spirit. In Jesus name I ask. Amen!
I will pray

2 people are

praying.

prayer request

posted by: pastor Thieringo on 8/28/2014


Prayer Request : persecution demonic satanic and dark things done againts pastor Thieringo must stop and mustn't have effect on him and must return againts those who do that . Fire of Holly Spirit must come on evil and bad things againts him. May Holly Spirit Jesus and God do justice to him . Protection , healing, wisdom, freedom, prosperity , miracles in finances, success and miracles in business, success and miracles in his life in Jesus Name . God bless You.
I will pray

1 person is

praying.

personal prayer

posted by: brenda on 8/8/2014


please pray that i find a place to stay before its too late pray that my income comes in time also for my health problems and that i find my wallet also that i sell all the furniture in the house
I will pray

1 person is

praying.

Employment

posted by: Pat on 7/15/2014


Please agree and pray for my son Vince, he has applied for a job, that he is well qualified for.His desire is to make a positive difference, and to share God's word to anybody that will listen.Please pray for God's favor for this new job for Vince.
I will pray

2 people are

praying.

My son Barry

posted by: Barry Brooks on 7/6/2014


His health has taken a serious downhill spiral..Please pray for healing..
I will pray

6 people are

praying.

Husband

posted by: Sheri on 6/6/2014


My husband and I had been married 27 years when he decided he no longer loved me. At that time he began an affair with a lady he worked with. I felt God was calling me to stand for my marriage, so I believed and prayed that our marriage would be restored and renewed. After 18 months of separation, God did put is back together and we have been back together for almost 3 years My husband has now decided he wants a divorce because he can't live without this woman. While talking with my husband he told me is bitter and anger and doesn't really care about anyone other than her. This is not my husband!! I am requesting prayer for him! That God would bring him to his knees and he would repent and allow God back Into his life. My husband has been taken captive and the only way to set him free is thru prayer! Please pray for him in a desperate way!!
I will pray

6 people are

praying.

Praise from a previous prayer request.

posted by: Pastor Shawn on 5/8/2014


On April 6 I made an online request for prayer for Peyton Crane, an 8 year old autistic child who was self destructive and was at that time in a rehabilitation center. I'd like to thank those of you who prayed for him. He is now at home and his therapist at the rehab facility thinks he is "the best he has ever been". Please continue to remember this family as God brings them to mind. This is an ongoing situation and they need faith and courage to meet the day to day challenges. I know that God is faithful and will supply their needs as they arise. There is also a younger brother and my prayer is that his peers won't ostracize him because his brother is "different". God bless all of you.
Amen!

3 people are

praising.

BRTHERS OPERATION

posted by: DIXIE JOHNSON on 4/26/2014


MY BROTHER SIDNEY WILL HAVE A LUNG CANCER OPERATION THUR. MAY 1ST. WILL EXPECT 2 MO RECOVERY AFTER OPERATION. THANK YOU FOR YOUR PRAYERS. SUBMITTED BY CHARLES ULREY
I will pray

14 people are

praying.

Transportation /Books published

posted by: Allene Rogers on 4/12/2014


I am requesting prayer for I am in need of a vehicle for ministry and personal use I'm always being turned down because I don't have enough verifiable income I receive $879. monthly from Social Security Disability and it is stretched beyond the max so much so I don't have enough to try and self publish my books I am a gifted Christian Writer I am also a tither I need everyone that can to touch and agree with me about these requests In the name of Jesus
I will pray

8 people are

praying.

healing


Please pray for my mom, Mary Ann to be healed of any cancer cell in her body. She is given strength,comfort,peace,energy,restful sleep,protection over her immune system & eyesight. And anything else she may need during this time! In Jesus name! Amen! Thank you & God bless you!
I will pray

9 people are

praying.